Welcome to Sarasota, Florida, voted one of the best small cities in the country to live, work and play. Not only do we have the sunny warm climate, turquoise blue waters and powder white sand of the Gulf of Mexico, but we are fortunate to have the best cultural opportunities in the State and at last count, 79 golf courses in Sarasota and Manatee counties.
My web site features information on local neighborhoods, community links, videos of the area and it offers the most up-to-date market information on current real estate listings - all designed to help you buy or sell a home more effectively in Southwest Florida.
If you or anyone you know is thinking about buying real estate in the wonderful, warm, west coast of Florida, please start your dream by viewing my complimentary CD and then give me a call.
"Warmly,"
Julie
Please be sure to register for email updates on the properties or neighborhoods you are most interested in. You can register by clicking here or by selecting save search or save property after you have performed a search and the results have displayed. I pride myself in giving the best in customer service and would be happy to assist you in finding the property that best meets your needs. Feel free to contact me directly at any time. Whether you are buying or selling, we give you our personal guarantee that you and your referrals will be treated with the greatest professionalism, confidentiality and integrity.
Featured Community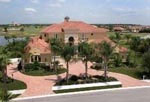 Lakewood Ranch
CLICK HERE TO VIEW ALL PROPERTIES FOR SALE IN THIS COMMUNITY
The entire property is 40,000 acres, approximately 48 square miles.   More than 8,500 acres have been developed into what is the master-planned community of Lakewood Ranch.  There are seven residential communities, encompassing more than 6,000 homes with planned growth to 25,000 more.  Commercial real estate includes office, retail, mixed-use as well as medical, daycare, amenities and services.  Residents can enjoy golf courses, tennis complex & a movie theater in the downtown.  Lakewood Ranch is a destination for people, businesses and entrepreneurs